Meet John Steel, Regional Business Development Manager at West One Loans for Northern England, Northern Wales and Scotland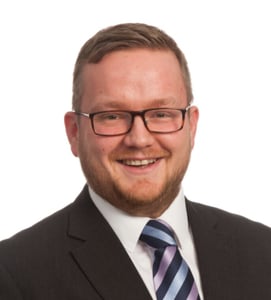 The main purpose of my job is…
As a Business Development Manager for West One Loans, I'm responsible for generating business opportunities, building supportive relationships with brokers and most importantly, improving understanding of specialist lending with brokers in my area.
My typical day…
Is an early start. As my role involves a lot of long-distance travelling, I spend a lot of my working day in the car on the way to around three meetings a day. In between, I catch up on emails, voicemails and calls. I believe speed and service are key, so at the end of each day I'm typically producing terms of cases, sending quotes or responding to any questions brokers have asked throughout the day.
The most enjoyable aspect of working in the specialist finance industry is…
No two cases are the same. Having spent several years working in High Street lending, a regular day would be quite black and white. A lot of decisions in principle, a yes or no, and then onto the next one. With the flexibility and case-by-case approach of specialist lending, it's naturally more enjoyable and each day brings a new challenge. With manual underwriting, cases are more rewarding to work on.
A favourite work memory this year…
After just 5 weeks of joining West One I funded my first case, which was a personal milestone.
The most interesting case I worked on this year was…
A case which blossomed from a new broker relationship. It involved two securities - a shop with nine flats above it and a department store conversion into 35 retail units in London. Both had a total valuation of £14m. The borrower was declined by a high street lender to finish the development off, as the underwriting showed a fraud indicator on their credit file. However, as we took the time to assess this we found this wasn't the client's fault –it was a caused by a rogue broker who had previously submitted a "dodgy" document to the high street lender on his behalf. West One Loans is now working on the case, with a potential of funding early next year.
In a sentence, I'd describe bridging FINANCE this year as…
Challenging, because of the uncertainty in the market caused by Brexit, but positive – the market's shown resilience and grown to a record £4.7bn according to our latest West One Bridging Index.
My 2018 predictions of the bridging market are…
2018 will be bigger and better. There will be a lot more certainty once we have a clearer direction with Brexit. Not just from a lender point of view, but also as a client and an investor. Lenders are still lending, but investors are likely to invest further once they know what is happening. I also think that customers will get involved with transactions once they know the direction. Just knowing the situation will lead to a positive direction.
I couldn't survive a day at work without…
My phone, my car… and the petrol to keep it running!
To unwind after work, I like to…
Spend time with my family, my son is three years old and just full of energy. Just like me, he loves football, swimming, and we're always busy on the weekends exploring fun things to do.
My secret talent is…
Running. I have completed four 10km runs all in personal best times each time. In 2018, I plan to complete more 10km runs and move towards a half marathon, perhaps in 2019. I shouldn't really enjoy running, but I do!
To find out more about West One Loans or for a quick conversation on your next project, give us a call on 0333 123 4556 or click the button below.