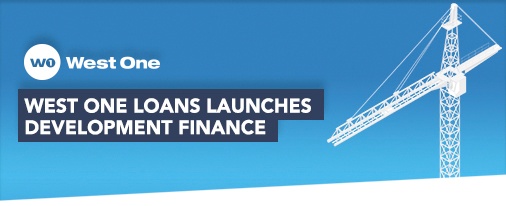 West One Loans are delighted to launch Development Finance - with a focus on small and medium sized developers. Development Finance from West One can be used to complete ground up developments and conversion projects.
We officially launched at the NACFB Expo as part of our continued programme of broadening our specialist finance offering. This follows our move into Second Charge mortgage lending in 2017.
The Development Finance range will be available from Wednesday 20thJune, through selected firms who specialise in Development Finance, as well as via direct enquiries to West One.
Key features for our latest product include:
£1m to £7.5m loan sizes
Initial LTV up to 70%
Loan-to-cost up to 85%
Loan-to-GDV up to 65%
Up to 100% of build costs
Terms up to 24 months
Up to 30 units of up to £1.5m value per unit
Marie Grundy, Sales Director at West One Loans, commented:
"West One's Development Finance is designed with small developers in mind who are underserved by High Street and private banks. It can be used for greenfield, new build residential developments or brownfield major renovations and conversions.
Small and medium-sized developers often find funding their projects to be a headache. Without established relationships at private banks or on the High Street, with insufficient equity or simply with projects outside the South East of England, getting finance agreed is often a challenge.
Our underwriting is renowned for considering each case on its merits, to meet the needs of underserved borrowers. The launch of our development finance range is a natural extension of that and is designed around the challenges many of our existing bridging borrowers face."
If you're a small or medium sized property developer with experience from two similar projects give us a call on
0333 123 4556 or drop us a line today