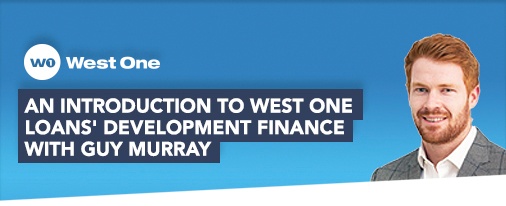 Hear from Guy Murray, from our development finance team as he answers some key broker questions in response to West One Loans' recent launch of development finance.
Why are West One Loans moving into the development finance space?
We're always looking at ways to improve our customer's journey and we found that we were funding a lot of development site purchases through our Bridging product, which were then refinanced with Development Finance lenders. With West One Loans offering a Development Finance product, we now finance site purchase through to the development of the site. This alleviates the need for our customers to switch lenders which is usually a time consuming and costly exercise.
What types of schemes will West One Loans consider funding?
We're looking to serve small and medium sized developers with loan sizes between £1m to £7.5m with a maximum of 30 units. We want to work closely with experienced property developers who have successfully completed at least two similar schemes already.
Can you give us a flavour of the new product?
Loan sizes between £1m and £7.5m

Lending up to 65% of Loan to GDV and 85% of Loan to Costs

Interest rates starting from 7.00% per annum
Why should developers choose West One Loans over other Development Finance lenders?
West One Loans prides itself on speed and certainty of finance. We have been key players in the bridging finance market over the last 10 years. Our development finance team work with the same core competencies in order to give property developers confidence to participate in the market, by agreeing purchases and building successful developments.
What information do you need from applicants to consider a deal?
A proposed scheme overview along with details of the developer's experience. This can include:
Purchase Price / Current Value

Gross Development Value (GDV)

A breakdown of the total costs involved to complete the development
Upon receiving the above details, we'll be able to issue a term sheet within 24 hours.
Can you tell us something interesting about yourself?
I'm from the other side of the world...New Zealand and moved to the UK 3 ½ years ago.
Do you have any interesting hobbies away from your working life?
As I am from New Zealand, my hobbies are all centred around the outdoors including, fishing, diving, surfing, skiing, snowboarding and playing the odd round of golf.
Who can be contacted to discuss a potential Development Finance deal?
You can reach me on 02087362268 or alternatively email through a summary of the deal to guy@westoneloans.co.uk and I'll be in touch