You will likely have heard more about Scotland's property market in the last couple of years than ever before...and we're not going to be the ones to put a stop to that.
In fact, with so much excitement around the property market in Scotland, we're delighted to announce the extension of our residential Second Charge mortgages into the country. This means you can offer a broader range of Second Charge mortgages to your existing intermediaries – and even build stronger (or entirely new) relationships with intermediaries in Scotland.
About a year ago, we launched our Second Charge mortgage product range. With the benefit of our group-wide experience of the market – it has come a long way in that short space of time. By adopting the same flexible, tailored lending approach that- helped us become a leading Bridging Lender, we meet borrower's varying needs and preferences every day.
So, what's the update for you?

SECOND CHARGE MORTGAGE KEY FEATURES
5-year fixed rates from 4.65% per annum
Bespoke products to cater for both employed and self-employed applicants
Most legal loan purposes considered
£10,000 to £500,000 loan sizes
LTV to 85%
3 to 30-year terms
2, 3 and 5-year fixed rate options
5-year fixed and variable rate products without ERCs
Up to age 85 at end of term
Overpayments permitted up to 10% of outstanding balance per annum
PROPERTIES WE LEND ON
England, Wales

and Scotland

minimum £100,000 value
Freehold houses
Leasehold flats over 55 years at end of loan term
Ex-local authority houses over £150,000 value
Ex-local authority flats over £250,000 value

What's exciting about the property market in scotland?
Scotland is becoming a new property hotspot. Recent reports revealed the country is experiencing its highest year-on-year house price growth since April 2008, with the average house price in Scotland at £182,936 in February 2018.
In some areas however, prices are healthily exceeding the £200,000 mark, with the City of Edinburgh coming in at £251,522, East Lothian at £219,393 and East Renfrewshire at £217,020. Take a look at the map below to see the range of average house prices across Scotland.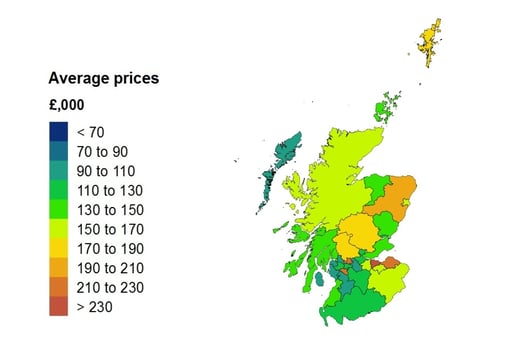 UK House Price Index Scotland: January 2018
Will the increase in equity lead to greater demand for Seconds for Scotland?

So, what are you waiting for?
For more information on our Second Charge mortgages click here, or if you'd like to talk to us about your access to our Second Charge mortgages, give us a call today on 020 8736 2297.