A Beginners Guide to MUFBs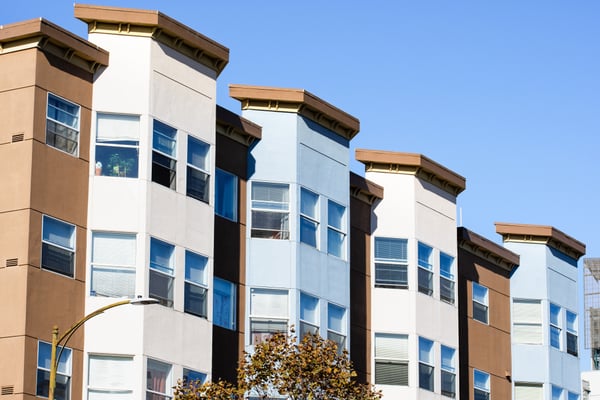 What is a Multi-unit Freehold Block?
A multi-unit freehold blocks (MUFB) is a single freehold property which has been split up into multiple self-contained units. Each unit will have separate entrances, kitchen, and bathroom areas, and they can have shared areas such as hallways and outdoor spaces.
Some common examples of an MUFB include:
A purpose built blocks of flats
Houses converted into flats
What are the differences between a HMO and MUFB?
The main differences between HMOs and MUFBs are that MUFBs are self-contained units that have individual AST agreements in place and separate entrances, kitchens, and bathroom spaces.
Houses in multiple occupation (HMOs) are residential properties that are shared by 3 or more people, from at least 2 or more households. The tenants have individual rooms but share facilities such as a kitchen, communal rooms, or bathroom.
For more information on HMOs and the benefits of having one, click here: https://www.westoneloans.co.uk/landlord-hub/a-beginners-guide-to-hmos
Benefits of a MUFB
High rental yield – Having multiple tenancies increases potential income opportunities compared to single occupied properties. Generally, a MUFB will have a higher rental yield than a traditional single occupancy buy-to-let property.
Lower risk of Void Periods – As there are multiple tenancies running during the same period, the loss of a tenant will not be as detrimental in comparison to single-unit buy-to-let properties. Although the landlord will experience a dip in income, the landlord will still receive rent from other units within the MUFB.
Units can have separate titles created – Landlords may decide to split the titles of individual units and sell each unit individually.
No License required – Unlike HMOs, MUFBs do not require licenses meaning landlords do not have to worry about any required fees or set up charges with the local authorities.
Speak to a buy-to-let expert today!
Challenges for a MUFB
Considered complex by investors – Finding finance can be challenging as there are a limited number of mainstream lenders willing to provide the funds for MUFBs. This is because they are considered as complex investments.
Converting single-occupancy property – Converting single-occupancy properties into MUFBs can be time consuming. In addition, landlords may also need to obtain planning permission which will cost time and money.
As a result, landlords may need to wait some time before they can start letting the units and making profit.
Maintenance costs can build up – Managing MUFBs can be costly, and landlords must be prepared to cover any maintenance costs, especially in the event that multiple units require funding.
MUFB market is limited – There are a limited number of MUFB investors, and it may be difficult to sell these properties in the future. This should be carefully considered before choosing to invest in an MUFB.
How can West One help?
First Time Landlords – HMO, MUFB– No BTL experience required
MUFB available on holiday/short term let basis
Available for UK based and expat landlords through limit company SPV or personal names
Multi-unit freehold buildings to 10 units (including partial blocks) – over 10 considered by referral
Flats with separate entrances and utilities
If a charge can be placed against the freehold of the entire residential block, we have options to lend
No minimum income earned, income must be declared and sufficient to cover lifestyle
No additional rate loading for limited company applications
Specialist underwriting on all applications
Flexible approach towards portfolio landlords
No minimum income requirements
Max loan up to 75% LTV
For more information on our MUFB product range please get in touch with the West One team now.
T: 0333 123 4556
E: BTLbrokersupport@westoneloans.co.uk
W: https://bit.ly/3KYANB5